Easy Baked Chocolate Glazed Doughnuts Recipe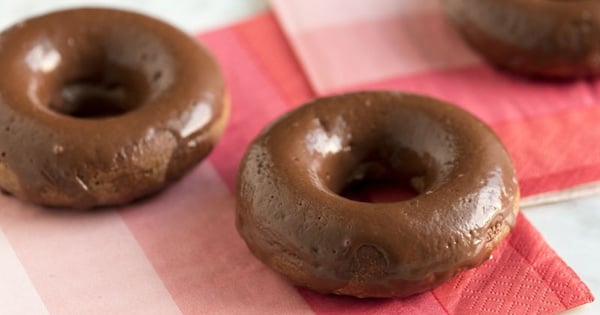 Doughnuts
3/4 cup Betty Crocker™ Super Moist™ devil's food cake mix (from 15.25-oz box)
1 cup Original Bisquick™ mix
1/4 cup sugar
1/2 teaspoon salt
3/4 cup milk
2 eggs, beaten
Glaze
1/2 cup Betty Crocker™ Rich & Creamy chocolate frosting (from 16-oz container)
1 tablespoon plus 1 teaspoon water
PREP TIME
20m
COOK TIME
40m
TOTAL TIME
1h
YIELD


12 servings
Instructions
Heat oven to 325°F. Lightly spray 2 doughnut pans with cooking spray.

In large bowl, mix cake mix, Bisquick mix, sugar and salt. Stir in milk and eggs. Mix until well combined. Fill each doughnut cup three-fourths full.

Bake 8 to 10 minutes or until doughnuts spring back when touched. Cool in pans 10 minutes; remove to cooling rack. Cool completely.

Meanwhile, in small bowl, stir frosting and water with spoon until smooth. Dip one side of each doughnut into glaze.
---
2019-06-07
https://www.flyers-on-line.com/data/recipes/5284/easy-baked-chocolate-glazed-doughnuts.jpg

---
Printed from Flyers-Online.com