Fig-Braised Chicken with Spiced Walnuts Recipe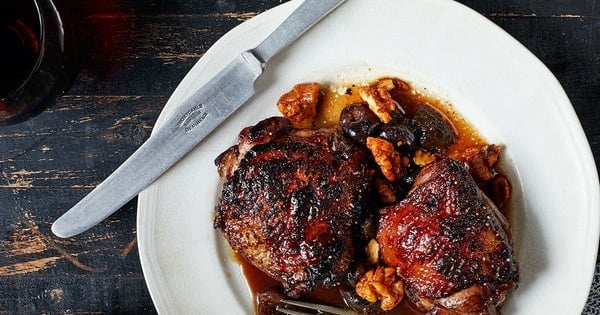 2 tablespoon ghee or olive oil
1/2 cup dried mission figs, diced
1/2 cup dried cherries
1/4 cup balsamic vinegar
1 tablespoon Worcestershire sauce
6 boneless, skinless chicken thighs
2 tablespoons ghee or olive oil
1 teaspoon sea salt
1 cup Chicken Bone Broth
Chopped fresh flat-leaf parsley, for garnish
For the walnuts :
1/2 cup walnuts
1 tablespoon olive oil
1/4 teaspoon sea salt
1/4 teaspoon paprika
PREP TIME
15m
COOK TIME
1h5m
TOTAL TIME
1h20m
YIELD


4-6 servings
Instructions
In a cast-iron skillet or sauté pan over medium-high heat, add 1 tablespoon ghee or oil along with the figs and cherries and sauté for 2 minutes.

Add the balsamic vinegar and Worcestershire sauce and simmer to reduce by one third, about 3 minutes. Remove from the heat.

Transfer the marinade to a bowl and place in the freezer to cool for about 10 minutes.

In the same bowl or a resealable zip-top bag, combine the chicken and marinade.

Mix thoroughly to coat the chicken evenly, cover if using a bowl, and refrigerate for at least 2 hours, or up to 24 hours.

When you are ready to eat, preheat the oven to 400°F.

Transfer the chicken from the marinade to a plate.

Reserve the marinade.

Heat the remaining 1 tablespoon ghee or oil in an oven-safe cast-iron skillet or sauté pan over medium-high heat.

Season the chicken thighs with the sea salt and cook the chicken in the hot ghee or oil until browned, about 3 minutes per side.

Add the reserved marinade and bone broth and bring to a simmer.

Reduce the liquid by half, about 10 minutes, turning the chicken periodically to ensure even cooking.
---
A recipe from Epicurious

2021-04-27
https://www.flyers-on-line.com/data/recipes/8706/fig-braised-chicken-with-spiced-walnuts.jpg

---
Printed from Flyers-Online.com