Beef and Vegie Chameleon Bolognese Recipe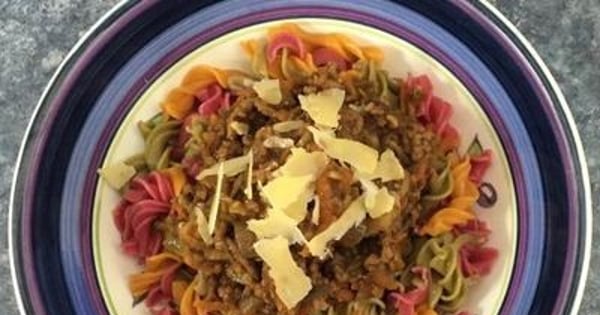 1 onion diced medium
2 garlic cloves crushed
2 celery stalks diced
1 tbs extra virgin olive oil
500 g premium beef mince
1/2 cup port
4 tbs Worcestershire sauce
1/3 cup water
1 carrot large grated
1 zucchini large grated
3 portobello mushrooms large grated
1 tsp Italian dried herbs
1 pinch salt and pepper *to taste
400 g pasta
1 handful parmesan cheese *to serve
1 jar Leggo's Garden Vegetable with Carrot, Capsicum, Tomato & Zucchini Pasta Sauce
1 jar Leggo's Pesto Traditional Basil
PREP TIME
10m
COOK TIME
30m
TOTAL TIME
40m
YIELD


8
Instructions
In a large pan on medium-high heat, fry off the onion, garlic and celery in the oil for 3-4 minutes or until onion starts to soften.

Add the mince and brown, breaking up any big lumps as you go.

Add the port and Worcestershire sauce and cook for a minute, then add the Leggo's pasta sauce. After emptying the pasta sauce add the water to the jar and shake to clean the jar then pour into the pot. Stir to combine.

Add the grated veggies, pesto, herbs, salt and pepper. Stir to combine, then turn the heat down to low and let bubble away for 30 minutes.

Serve with your favourite pasta (we love Willunga Gluten Free Rainbow Fusilli) and topped with parmesan cheese if desired.

To cook this recipe in a slow cooker just add 1 can of tomato puree. Cook for 4 hours on high, or 6 hours on slow.
---
2018-06-07
https://www.flyers-on-line.com/data/recipes/2575/beef-and-vegie-chameleon-bolognese.jpg

---
Printed from Flyers-Online.com