The Future of Global eCommerce
Currently, eCommerce stands at the forefront of the global retail sector, transitioning from a secondary shopping option to a primary commercial hub. eCommerce can be many things, including cross-border commerce, borderless business, and international online retail.
To highlight the outlook of eCommerce trends of 2023-2027, we've assembled some very interesting forecasts derived from region-specific statistics you should know.
The world experienced a significant shift in 2020 when eCommerce sales surged by 10.9% - driven by the "digital accelerator" - the COVID-19 Pandemic.
The contagion effect on eCommerce sky-rocketed and continues to expand, indicating a universal preference for online shopping across diverse product categories. Furthermore, our analysis implies powerhouse nations like the U.S., China, and Japan's eCommerce revenues are the key drivers of the global eCommerce statistics.
Key Findings
China's Leadership: In 2022, China solidified its position as an eCommerce giant with a market value of US$779,858 billion. Primarily driven by the electronics sector, it's projected to reach US$1,728,654 billion by 2027 with a CAGR of 17.3%.
Top eCommerce Sectors: Fashion recorded global revenues of US$989.3 billion, trailed by electronics at US$914.1 billion, of which Consumer Electronics accounted for 74%. Surprisingly, the food sector clocked global sales of US$346.3 billion, projected to grow 17.21% by 2027.
Global Contributions: Outside China, the U.S. and Europe were significant players, generating revenues of US$917.6 billion and US$730.3 billion, respectively, in 2023. These figures are expected to ascend to US$1,389.2 billion (U.S.) and US$1,068 billion (Europe) by 2027.
Innovation and Market Dynamism: The year observed a blend of innovation and adaptability spurred by startups and growth in emerging Asian markets.
Mobile Commerce Rise: Mobile commerce, powered by smartphones and tablets, gained traction, emphasizing the role of mobile apps in contemporary shopping.
Global eCommerce Revenue's Expected Ascendancy by 64.69% from 2023 to 2027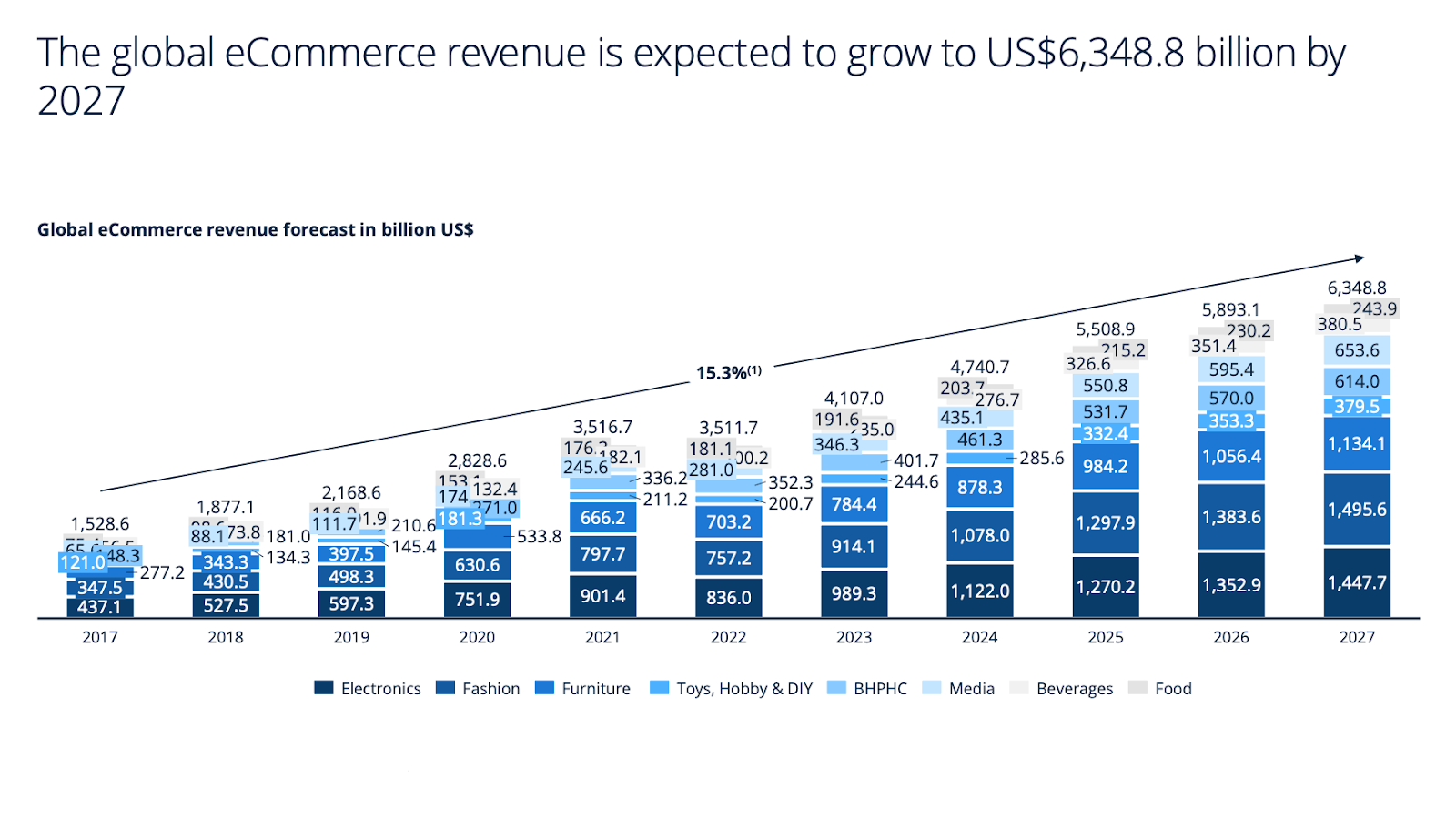 The digital era is more than just a buzzword. It's redefining the way we shop. By 2027, the world anticipates eCommerce revenues to soar to an astonishing US$6,348.8 billion.
Industry Segmentation of Global eCommerce Revenue
Notably, 'Electronics' and 'Fashion' are the two powerhouses driving this growth, followed by furniture, food, toys, DIY hobbies, and more.
1. Electronics eCommerce Industry Has an Average Growth Rate of 15.7%
Electronics has taken eCommerce by storm. From a substantial US$437.1 billion in 2017 to a staggering expected US$1,447.7 billion by 2027, it's clear that electronics have become an integral part of our digital shopping carts.
Household appliances acquire almost half of consumer electronics growth revenue.
By 2027, Most Online Electronics Shoppers Will Live in China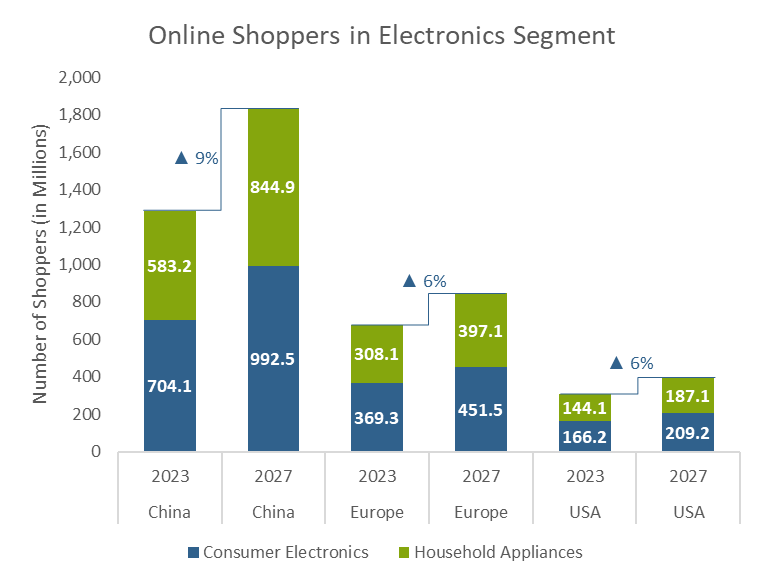 The chart above forecasts eCommerce Electronics buyers for China, Europe, and the USA, with China expected to acquire a solid 9% leap from 2023 to 2027. The number of online shoppers in the Chinese market is set to increase, and as per the data, by the end of 2023, there will be 704.1 million Chinese consumers contributing to the eCommerce industry. With the rate of internet users joining the force, China will be home to the maximum number of online electronics shoppers by 2027.
Europe and the USA will see similar estimated growth of 6%, although Europe clearly has more online shoppers in the consumer electronics segment, in comparison to the USA.
2. Fashion Competes With Electronics at US$914.1 Billion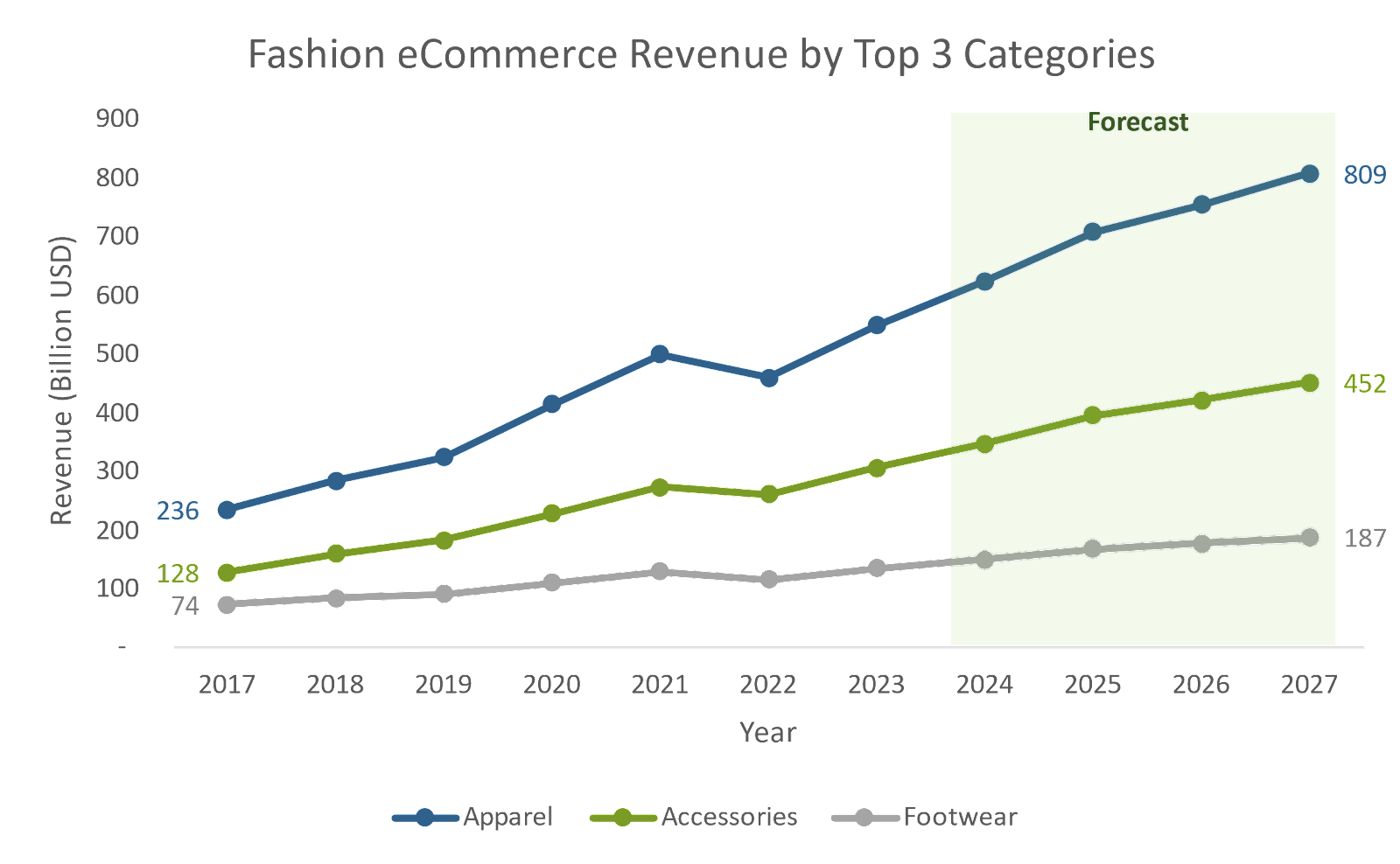 Fashion isn't just about the runway anymore; it's taken a digital leap. From US$347.5 billion in 2017, the online fashion market is set to expand to a whopping US$1,495.6 billion by 2027.
With ever-changing trends and seasons, online apparel shopping has thrived. The convenience of digital try-ons and vast collections make it a favorite, with a revenue forecast of US$808.5 billion, accounting for more than half of the global revenue.
3. Furniture eCommerce To See an Estimated Incline of 12.1% by 2027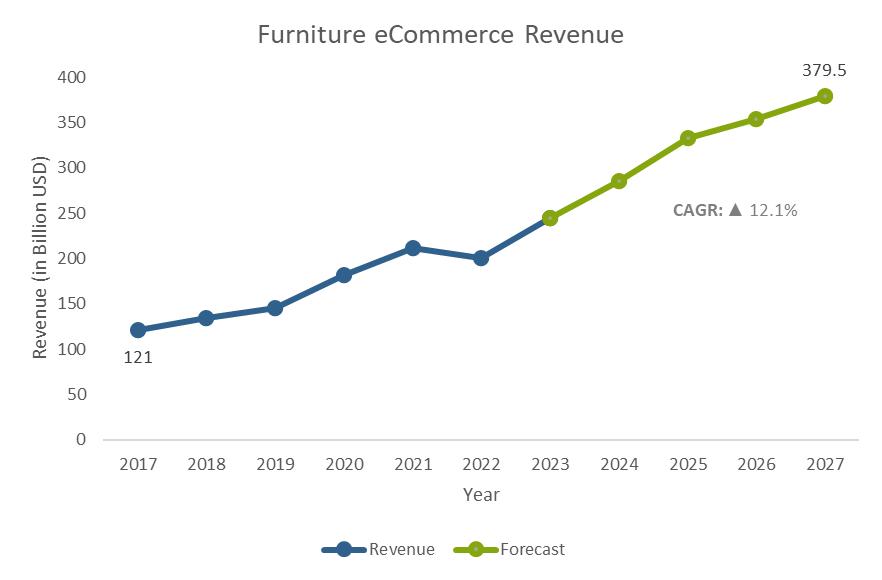 The digital furniture market has expanded from US$277.2 billion in 2017 to a projected US$1,134.1 billion by 2027. The numbers reflect a consistent consumer shift towards online furniture shopping.
4. Food Segment: U.S. Generating Maximum Revenue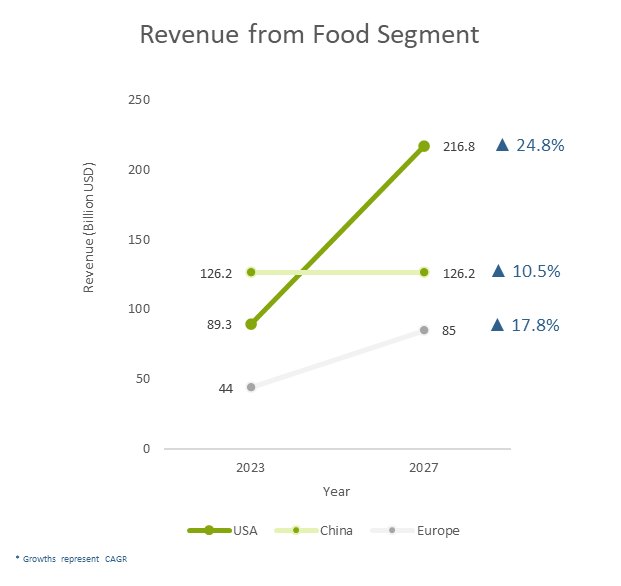 The digital food and beverages sector boasts a 25.8% average annual growth rate. From US$65.6 billion in 2017, it's projected to reach a delectable US$653.6 billion by 2027.
The U.S. and China lead, with Europe following suit. The beverage sector alone anticipates a 21% annual growth, targeting US$380.5 billion by 2027.
5. Miscellaneous, Toys, Hobbies, DIY & More: The Digital Marketplace's Tapestry
Beyond the main sectors, there's a myriad of growth in toys, hobbies, DIY, and more. These segments, from hobby and stationery to sports and outdoor, all showcase strong growth, unified by a 15.1% annual growth rate. The media segment alone is eyeing US$653.6 billion by 2027, up from US$346.3 billion in 2023.
Each segment in this digital marketplace narrates a tale of growth, consumer evolution, and the limitless potential of eCommerce.
Forecasting eCommerce Growth Rate: China Set To Dominate at 17.3%
China's dominance is forecasted to continue with an expected market share of US$1,728,654 billion by 2027. This is a considerable jump from 2023's forecasted revenue of US$779,858 - which accounts for one-third of the global eCommerce market. Here's a comparison outlining consumer purchasing behavior in the next segment.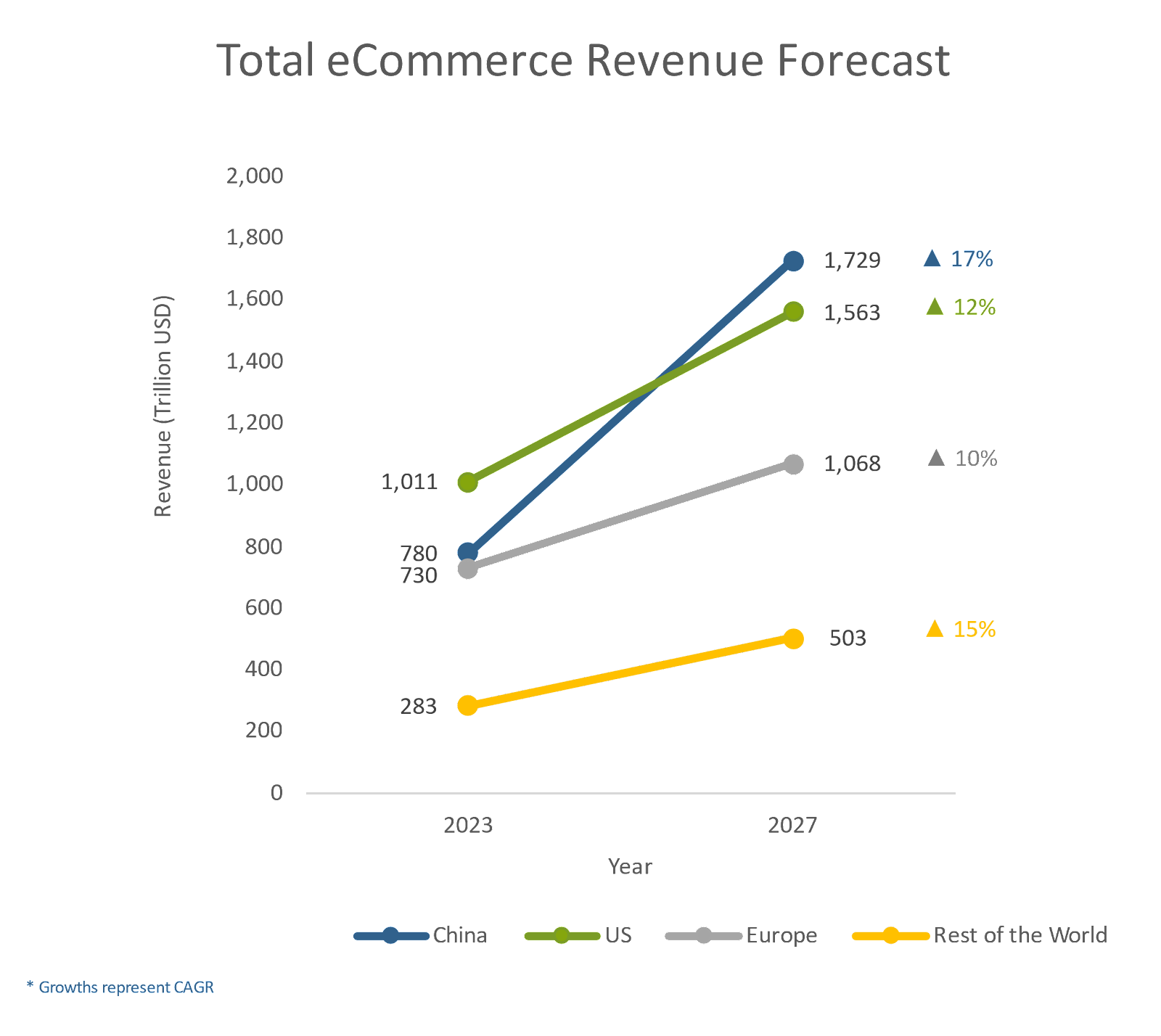 Has High Internet Usage Surged the eCommerce Growth? The Link Explained!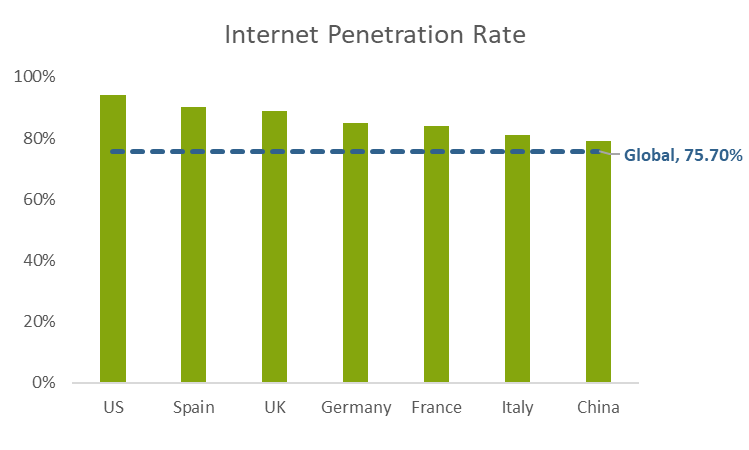 Across the globe, Internet access has transitioned from a luxury to a necessity, acting as a primary catalyst for eCommerce growth. We have seen that an impressive 75.7% of the global populace now enjoy online connectivity.
Leading this charge is the U.S., boasting a whopping 94% internet penetration. Not to be outdone, Europe displays an admirable average of 86.2% connectivity. This European connectivity landscape is interestingly textured: Spain surges with 90%, while the U.K. trails just behind at 89%. Germany and France, two of Europe's economic powerhouses, have 85% and 84% respectively.
But perhaps the most intriguing figure is China's. Despite its renowned stringent internet regulations, the Asian giant reports a 79% penetration rate, echoing similar statistics in Italy.
Comparing Online Shopping Pre-Purchase Research: U.S. vs China
A survey conducted to analyze eCommerce consumer purchasing behavior for U.S. and China reflected the following numbers and representation.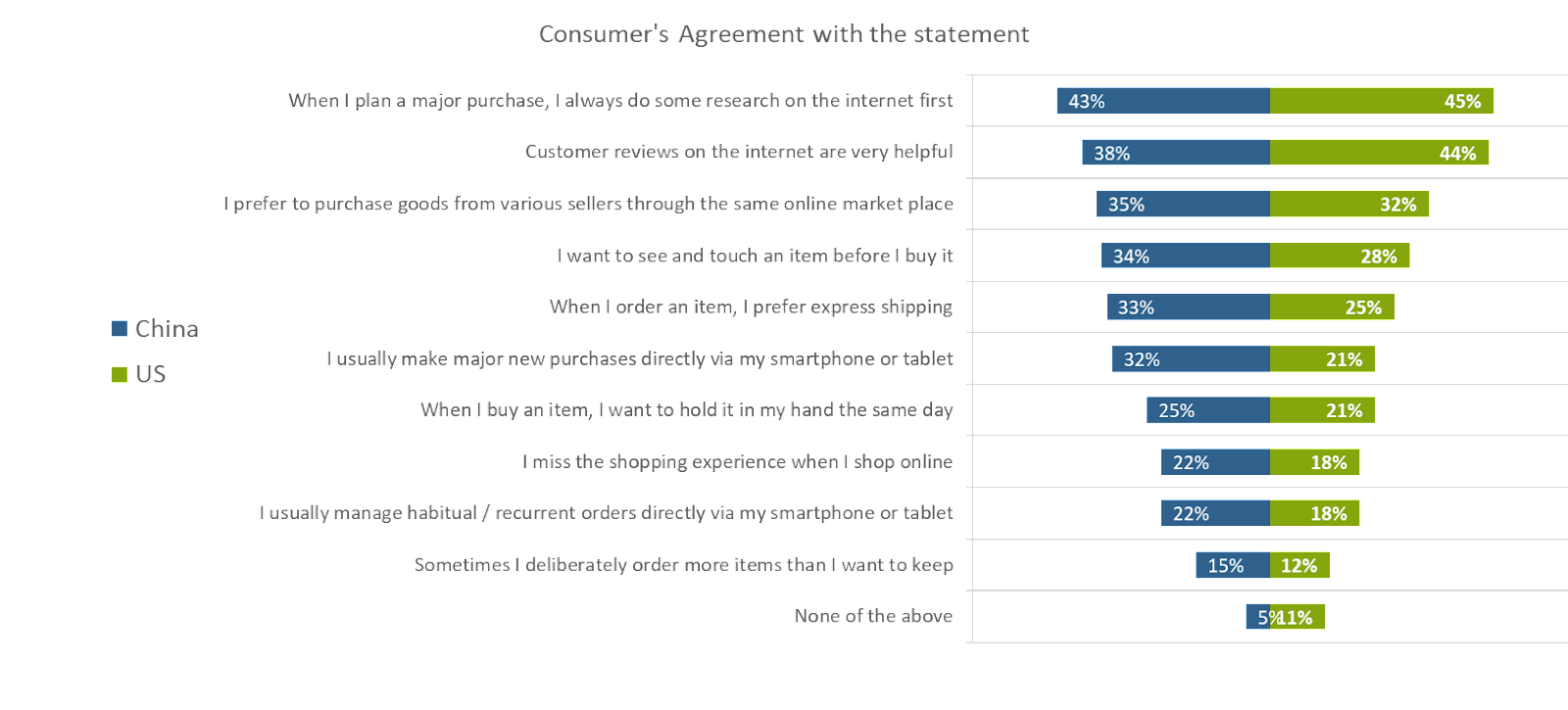 In an era of information, 45% of U.S. online aficionados and 43% of their Chinese counterparts deem rigorous online research essential, especially before hefty purchases.
The power of "online reviews" surfaced with a substantial 44% of Americans and 38% of Chinese consumers considering online reviews as pivotal deciding factors in their buying journeys.
The data implies a unified marketplace adoration and a synergy between the U.S. and China. 32% of Americans and 35% of Chinese relish the experience of shopping from diverse sellers unified under one digital roof.
Quick gratification is the game for 25% of U.S. online shoppers. In comparison, 33% of Chinese buyers favor speedy deliveries.
Mobile devices are crucial in managing recurring orders, evident from the 18% of U.S. consumers and 22% of their Chinese peers.
Smart Shopping playing the numbers, 12% of U.S. digital shoppers and 15% from China often add more to their carts than needed, perhaps to savor the joy of selection post-purchase.
The Industry Giants of eCommerce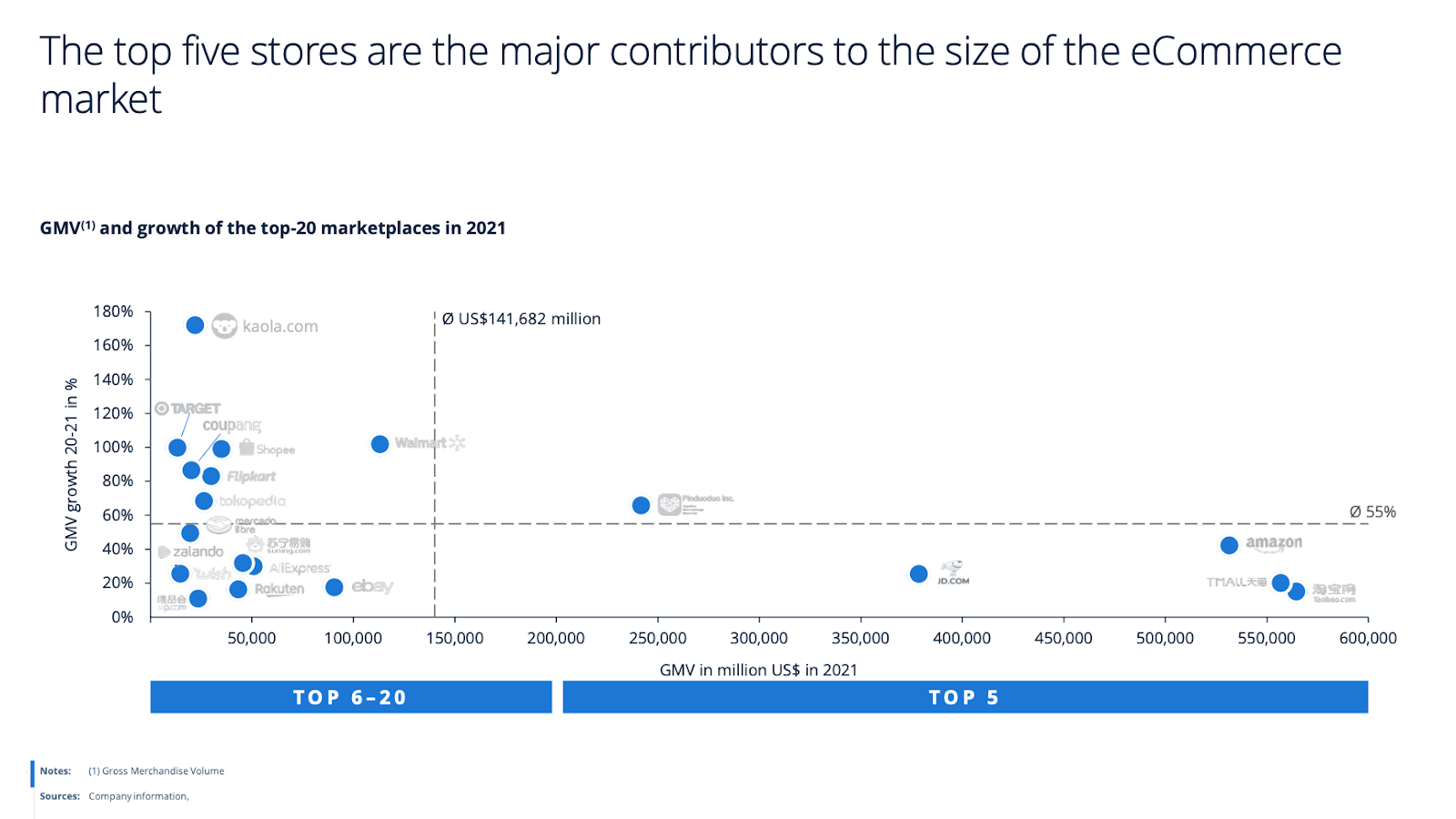 As the digital marketplace unfolds, renowned names like Amazon, Walmart, Mercado libre, Jumia, JD.com, Flipkart, Shopee, Rakuten, Taobao & Tmall(owned by Alibaba Group Holding, LTD), and Pinduoduo, Inc have unmistakably cast their towering shadows and assert their dominance.
Amazon: Standing atop the eCommerce pyramid, Amazon flexes its muscles with a staggering lead, demonstrating over 40% growth, the company's prowess resonates most in the Electronics and Media sector.
Taobao (Alibaba Group Holding, Ltd.): Nipping at Amazon's heels, Taobao displays a higher GMV of half a million. Embedded deep within the heart of China, this giant caters predominantly to the ever-evolving Fashion market.
Tmall (Alibaba Group Holding, Ltd.): Reflecting the multifaceted strength of the Alibaba Group, Tmall echoes Taobao's market focus, raking in a GMV of over US$550,000 million. Much like its sibling Taobao, this platform is engrained in the intricate fabric of China's eCommerce ecosystem.

Global Consumer Spending & Revenue Trends: Dissecting the U.S., Europe, and China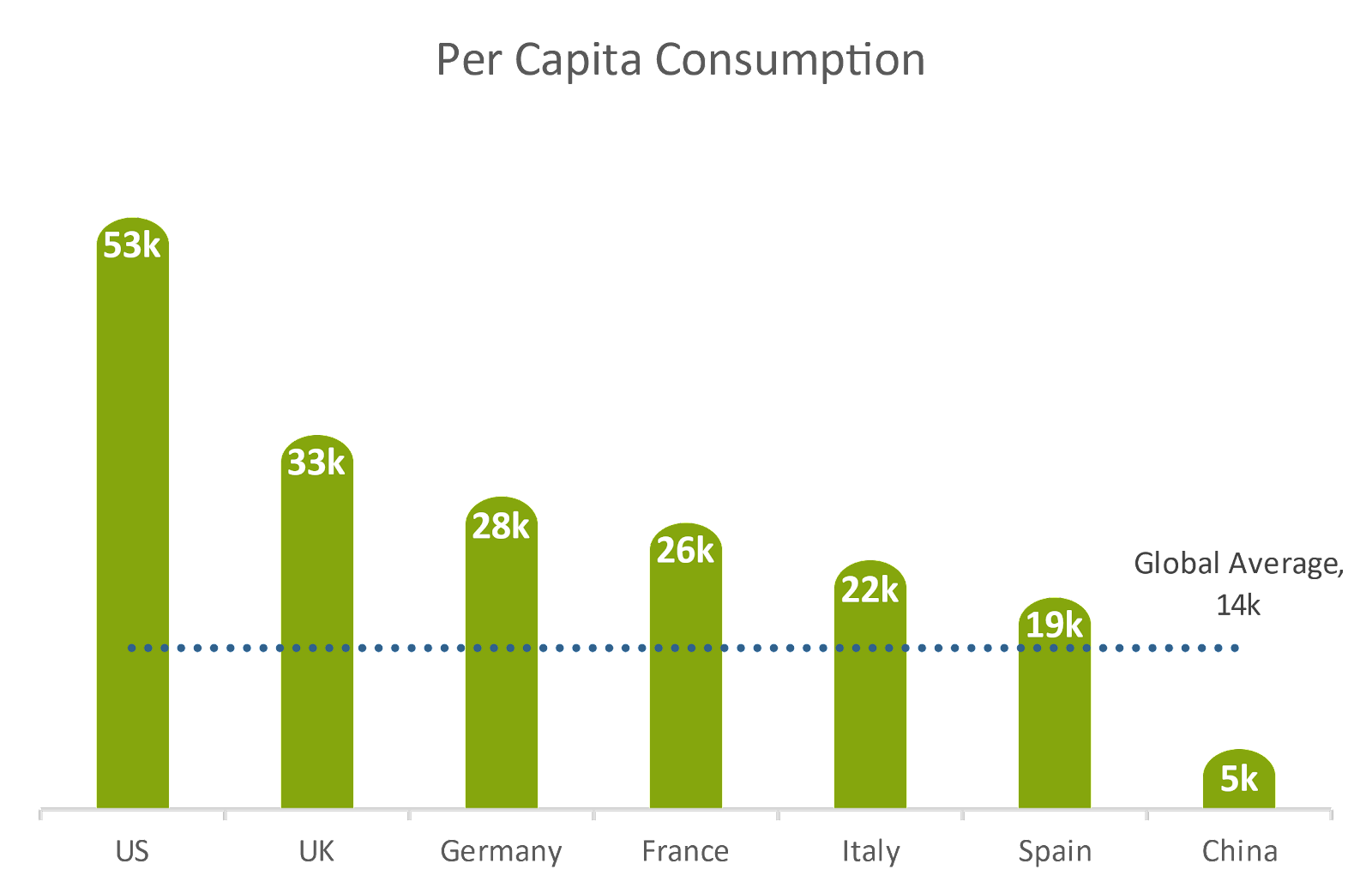 In 2023, the average worldwide consumer spending was pegged at $14,236. Despite its global influence, China reflected a more modest per-capita spending of $5,360, highlighting the pronounced East-West economic contrast. U.S is seen with the maximum per capita consumption of $53,000, way over the average consumer spending. However, Europe raced ahead, registering an average spend of $21,499. Leading the European contingent was the U.K. with a remarkable $33,367, closely trailed by economic giants Germany, France, Italy, and Spain.
Methodology
Data Parameters
Our analysis is focused on B2C enterprises and captures sales of tangible goods through digital channels to individual consumers. This encompasses transactions via desktop computers (like laptops) and mobile devices (like smartphones and tablets). Our dataset excludes digital services, media downloads or streams, B2B digital transactions, and the digital trading of used or refurbished goods. All financial figures denote the annual gross revenue, excluding shipping costs.
Modeling Strategy
Our market size determination utilizes a blended top-down and bottom-up approach tailored to each market segment. Our foundation for market evaluation includes annual reports from industry leaders, insights from third-party research, findings from our proprietary surveys (for instance, the Premium Statista Global Consumer Survey), and data on consumer behavior patterns sourced from platforms like Google Trends and Alibaba Trends. Additionally, we incorporate critical market indicators such as GDP, consumer expenditure, internet usage, and population demographics to fine-tune our estimates for each nation.
Forecasting Approach
Our forecasting methods are varied and chosen based on each market's unique dynamics. Due to their non-linear adoption patterns, digital products and services employ techniques like the S-curve function and exponential trend smoothing. Critical forecast determinants include GDP per capita, individual consumer spending, internet penetration rates, and overall population.
Updates and Considerations
To ensure relevancy, we refresh our market insights biannually, factoring in any significant shifts in market dynamics. Notably, our data incorporates the impacts of significant global events, including the COVID-19 pandemic and the Russia/Ukraine conflict, on a country-by-country basis.