"Man Catching" Fried Chicken with Honey-Pecan Glaze Recipe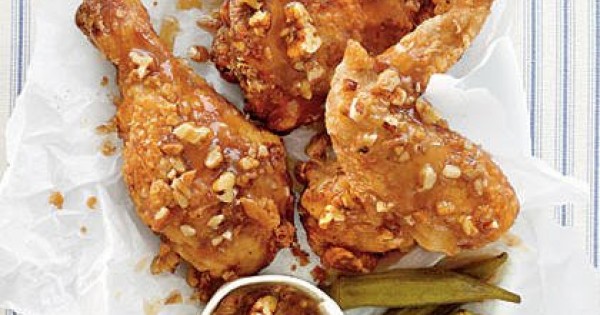 4 1/2 pounds chicken pieces (breast, drumsticks, and thighs)
2 cups buttermilk
1 large egg Vegetable oil
2 cups self-rising flour
1 tablespoon salt
1/2 teaspoon ground red pepper
1/4 teaspoon garlic powder
1/4 teaspoon ground black pepper
1/2 cup butter
1/4 cup plus
2 1/2 Tbsp. honey
1/2 cup pecans, coarsely chopped
Instructions
Place chicken pieces in a 13- x 9-inch baking dish. Whisk together buttermilk and egg until blended; pour over chicken.

Cover and chill 1 to 8 hours, turning chicken after 30 minutes. Pour vegetable oil to depth of 1 1/2 inches into a cast-iron Dutch oven; heat over medium heat to 340°.

Whisk together flour, salt, ground red pepper, garlic powder, and ground black pepper in a shallow dish.

Dredge chicken in flour mixture, shaking off excess. Fry chicken, in 2 batches, in hot oil 20 to 22 minutes or until done, turning occasionally. Drain on a wire rack over paper towels.

Place on a wire rack in a jelly-roll pan, and keep warm in a 200° oven.

Melt butter in a small saucepan over medium heat; whisk in honey until blended.

Stir in pecans; bring mixture to a boil, whisking often. Reduce heat to low, and cook, stirring occasionally, 8 to 10 minutes or until slightly thickened.

Drizzle over chicken, and serve immediately.
---
A recipe from my recipes

2018-06-14
https://www.flyers-on-line.com/data/recipes/2642/-man-catching-fried-chicken-with-honey-pecan-glaze.jpg

---
Printed from Flyers-Online.com