'Be my Valentine' cookies Recipe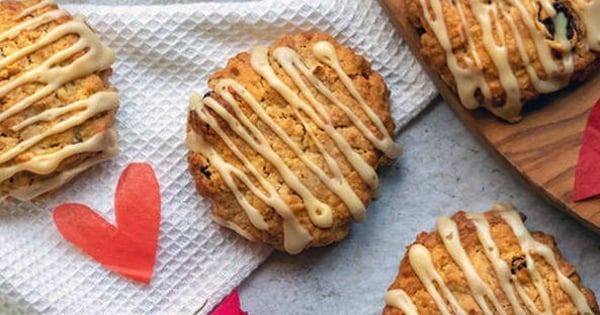 200g Taste the Difference raisins nuts & honey granola
50g Taste the Difference whole rolled porridge oats
50g raisins
65g acacia squeezy honey
100g butter
1 tsp baking powder
1 medium egg
Zest from 1 lemon
1 tsp vanilla bean paste
2-3 Tbsp No.1 Kombucha Ginger & Turmeric
50g icing sugar
PREP TIME
48m
COOK TIME
12m
TOTAL TIME
1h
YIELD


18 small cookies
Instructions
Blitz 50g of the granola until a flour-like texture has formed. Add this to a bowl with the softened butter, vanilla bean paste and honey. Lightly cream until just combined.

Using clean hands, roll the cookie dough mix into balls about the size of a pingpong ball; you should get about 18. Chill in the fridge for at least 30 minutes.

Pre-heat the oven to 180°C/fan 160°C/gas mark 4. Place the cookie dough balls onto a baking tray lined with parchment paper.

Press each ball down to give a rounded shape – these cookies wont spread much, so it helps to shape them at this stage.

Bake cookies in 2-3 batches in the middle of the oven for 12-16 minutes.

Whilst the cookies are baking, prepare the icing. Sift the icing sugar into a bowl then carefully pour in about 2 tbsp of the kombucha.

You'll want a thick pourable consistency. Add up to another tablespoon if it needs to be a little thinner.

Check the cookies at the 12 minute point. When they're lightly golden around the edges, with a slight give in the middle, they're done.

Once the cookies are cool, drizzle over the icing in a zigzag pattern freehand or using an icing bag.
---
A recipe from sainsburys

2019-02-14
https://www.flyers-on-line.com/data/recipes/4900/-be-my-valentine-cookies.jpg

---
Printed from Flyers-Online.com