Maple-Roasted Sweet Potatoes and Carrots Recipe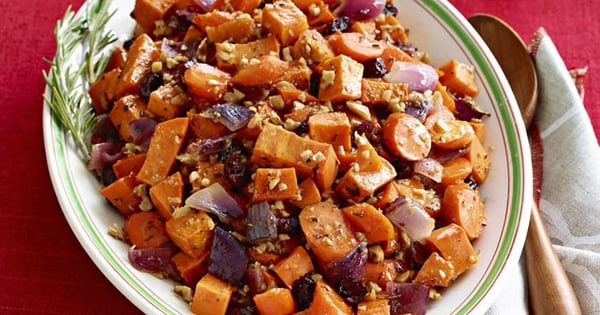 1/2 cup Miracle Whip made with Olive Oil Spread*
2 lb. (900 g) sweet potatoes (about 4), peeled, cut into 3/4-inch pieces
1 lb. (450 g) carrot s, peeled, cut diagonally into 1/2-inch-thick slices
1 red onion , cut into 1-inch chunks
1/2 cup Kraft Extra Virgin Olive Oil Aged Balsamic Vinaigrette Dressing
1/2 cup maple syrup
2 Tbsp. chopped fresh rosemary
1/2 cup dried cranberries
1/4 cup chopped walnuts , toasted
PREP TIME
20m
COOK TIME
1h
TOTAL TIME
1h20m
Instructions
1. Add Miracle Whip to combined vegetables in large bowl; mix lightly. Spread onto parchment-covered rimmed baking sheet.

2. Bake 30 min., stirring after 15 min. Meanwhile, mix dressing, syrup and rosemary until blended.

3. Drizzle dressing mixture over vegetables; stir to evenly coat. Bake 25 to 30 min. or until vegetables are tender, stirring after 15 min.

4. Spoon vegetable mixture into large bowl. Add cranberries; mix lightly. Sprinkle with nuts.
---
A recipe from Kraft

2018-02-22
https://www.flyers-on-line.com/data/recipes/738/maple-roasted-sweet-potatoes-and-carrots.jpg

---
Printed from Flyers-Online.com