Copa verde by Monsieur Cocktail Recipe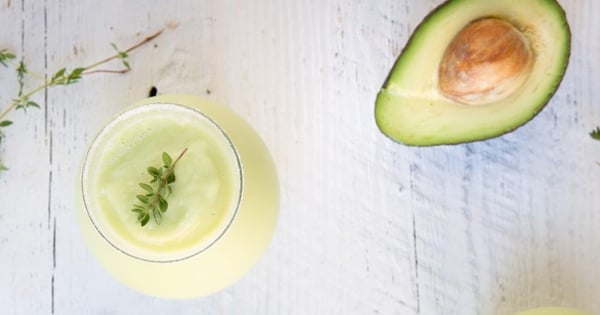 To taste, salt, sugar and fresh thyme
1 lime wedge
1/2 avocado
250 mL (1 cup) edamames
125 mL (1/2 cup) cold water
45 mL (1.5 oz.) agave syrup
1 sprig fresh thyme (to decorate)
PREP TIME
5m
TOTAL TIME
5m
YIELD


1 glass
Instructions
In a small dish, mix together salt, sugar, and fresh thyme.

Rub lime wedge on the outside rim of a highball glass and dip in dish of salt mixture to coat.

Purée avocado, edamame, water, and agave syrup in a blender until smooth.

Transfer to a shaker and mix with ice.

Pour into glass.
---
A recipe from Iga

2020-02-08
https://www.flyers-on-line.com/data/recipes/6147/copa-verde-by-monsieur-cocktail.jpg

---
Printed from Flyers-Online.com