London Drugs is 100% Canadian owned and is focused on local customers' satisfaction. Across Alberta, Saskatchewan, Manitoba and British Columbia, London Drugs' 75 stores employ more than 7000 staff dedicated to providing our customers with a superior shopping experience.
We serve our customers better through innovation, and a continued involvement in the communities we service.


The Story of London Drugs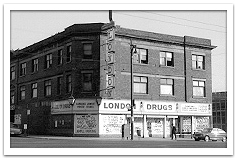 The year was 1945: the soldiers were coming home, Zoot Suits were in style and Bing Crosby and Frank Sinatra crooned over the radio waves.
In this new era of hope and expectation, London Drugs was born. It was a humble, community drugstore-just 1000 square feet-but this little store on Main Street, Vancouver, was given a big name. The store was named after London, England, the home of Canada's King, George VI. In the months after World War II, London Drugs carried the promise of peace and prosperity.
Today, London Drugs has stores in more than 35 major markets throughout British Columbia, Alberta, Saskatchewan, and Manitoba. The pharmacy is still the heart of our business, but today we also offer a full service computer department, cosmetics ranging from lipgloss to high-end face creams, furniture, cameras, high quality photo finishing, cordless phones and plasma televisions. More people buy their small appliances in London Drugs than any other place in Western Canada. All told, we serve over 45 million customers each year, and we are still growing.
How did a small Vancouver drugstore become such an integral part of Western Canadians' lives? This is the story of London Drugs.
Source: London Drugs online